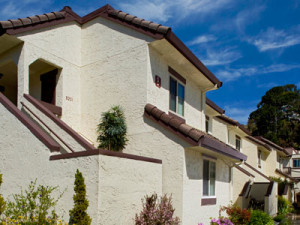 ADDRESS:
90 Grandview Street
Santa Cruz, CA 95060
(831) 426-2036
COUNTY: Santa Cruz
PROJECT DESCRIPTION:
Las Palmas and Bentall Residential purchased and remodeled this 50-unit Family and Senior apartment complex in Santa Cruz, California. Originally built in 1981, extensive renovations amounting to $1.33 million were completed in November of 2007. All 50 units were given new windows, flooring, cabinets and fixtures; while the building exterior was repainted and landscaping upgraded. The community room was retrofitted and refurnished to provide a welcoming environment for residents.
AMENITIES INCLUDE:
Recreation Building
Laundry facilities
Multipurpose social room
Full-service kitchen facilities
Computer center with bi-weekly educational classes
Manager's office
Mission Gardens is located within one mile of numerous grocery stores, banks, the beach and several parks. Units are available to seniors and families earning between 50% – 60% of the area median income.
PROPERTY MGMT: The John Stewart Company
FINANCING:
Tax Credit Equity Investor: Union Bank
Construction and Permanent Lender: Prudential Affordable Mortgage Company
UNIT MIX:
50 units
Number of Units / Bedrooms / Unit Size
26 / 1 / 611-633 sq. ft.
15 / 2 / 859 sq. ft.
8 / 3 / 1268 sq. ft.
1 manager / 2 / 859 sq. ft.
Equal Housing Opportunity100% AFFORDABLE:
Number of Units / % AMI
15 / 50%
34 / 60%
1 manager
RESIDENT SERVICES: More Information